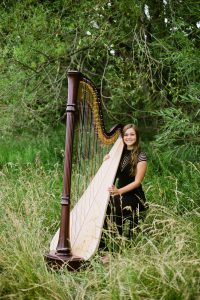 I am available for weddings in both Salt Lake county and Utah county, but I am also able to travel.
I'm able to play virtually any song requested as I have hundreds of songs in my repertoire and I love playing songs that are meaningful to couples.
Some of my most popular ceremony song requests include:
Perfect-Ed Sheeran
Canon in D
Hallelujah-Rufus Wainwright
A Thousand Years-Christina Perri
All of Me-John Legend
Young and Beautiful- Lana Del Rey
Married Life- Disney's "Up"
Think of Me-Andrew Lloyd Webber
Rates
Rates depend on a variety of factors including mileage to the event, the type and length of event, and specific requests. Any requests for additional instruments; cello, voice, violin, or viola will cost an additional fee.
---
Testimonials
"Hired for our wedding. Amazing Harpist. Super easy to work with. Beautiful music." -Logan R. 
"Alyssa made our day incredible with the gift of music that she provided. It added to the specialness of our day and made it absolutely perfect." -Marissa B.
 "The harp was the perfect addition to our event. We all enjoyed the beautiful music and the elegance that it exuded. Can't wait to hire her for our next event!" -Gayle G.