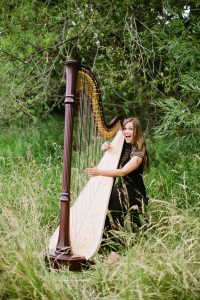 My studio is full of students of all ages and abilities. I take a traditional approach to teaching, focusing on technique and sound. I also include ear training, sight-reading, memorization, theory, improvisation, and composition in my teaching. I strive to custom tailor my teaching depending on the needs of my students.
Lessons are 30-45 minutes, depending on the needs of each student. I also offer 20-45 minute master classes to help polish and prepare harpists for auditions, performances, and orchestral music.
The rewards of playing a musical instrument are great and well-documented, and I believe they are particularly great with this ancient, storied instrument.
It is clear to me that at whatever level of commitment my students are able to bring to it, the harp is an enriching presence in their lives.
Please contact me with any questions about harp lessons or to schedule an appointment and negotiate a price. I'd love to hear from you!