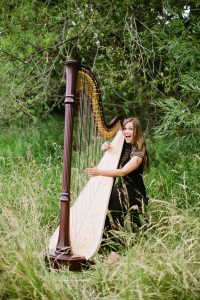 My students range from young beginners to advanced students. My teaching style incorporates techniques, drills, and traditions from many different methods thanks to my varied background. This teaching style generally incorporates Salzedo, and French methods and techniques. I am also a Suzuki-trained harp teacher, with training from Mary Kay Waddington, author of the Suzuki harp method. I have a private harp studio in Orem, UT. My students love and look forward to participating in the annual Utah Harp Society festival each year.
It is clear to me that at whatever level of commitment my students are able to bring to it, the harp is an enriching presence in their lives.
Being recently graduated from the University of Utah, I know how hard high school students have to work and prepare to audition for college programs. Because of this, I also offer weekly 30-45 minute college preparation lessons for all high school-aged harpists. We will go over repertoire for auditions, audition etiquette, basic music theory, and aural skills lessons, and I can help find a school that will fit each individual student's needs.
Please contact me with any questions about harp lessons or to schedule an appointment and negotiate a price. I'd love to hear from you!